Classifiers Free Mini-Course Online Program
$0.00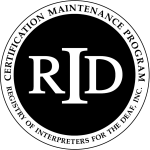 This free mini course will give you a good sense of what to expect in the Classifiers Self Study series.
Read the description below for more details.
Description
By Patricia Lessard
Take an hour-long free mini course with lessons culled from our Classifiers series. 
Treehouse Video is an Approved RID CMP Sponsor for continuing education activities.  This Classifiers Free Mini Course is offered for 0.1 Professional Studies (PS) CEUs at the Little/None Content Knowledge Level.
To get started, add the Free Mini Course to your shopping cart and check out normally. This is a free item and no payment information will be requested. Be sure to log into your account for checkout (or create an account if necessary) — you will need to log into your account to access your online course.
HOW TO ACCESS THE COURSE
After you log in, go "My Programs." You will see the Classifiers Free Mini Course listed there.  Click on the title to access the course.
Further instructions are on the home page of the course.
EVALUATION FORM
Please note, we cannot process your CEUs without a completed "Request for CEUs/optional evaluation" form. You must spend at least one hour with the material and take the quiz. When you complete the quiz at the end of the course, write down your completion code and follow the instructions to complete a form to request CEUs and complete the optional evaluation.
LEARNING OBJECTIVES
By the time you finish working with this program, you will have:
been exposed to vocabulary for specific types of classifiers
seen examples of Entity, Trace and Handle classifiers
been able to identify Non-Manual Signals (NMS) and distinguish between those that carry linguistic information and those that show affect
been able to recognize Role Shifts
seen examples of Point of View – where an event is described from more than one character's point of view and the elements are aligned accordingly
REQUESTING CEUs
After you spend at least one hour with the material and successfully complete the quiz at the end of the program, you will be given instructions for submitting your Completion Code and Evaluation Form.  Upon receipt of this information, Treehouse Video will process and report your 0.1 PS CEUs to RID and send you a Certificate of Completion no later than the fifteenth day of the month following the month your materials were received.  For example, if you submitted your Completion Code and Evaluation form in March, your CEUs will be processed no later than April 15.  The report to RID and Certificate of Completion  will indicate the date your materials were received.
TERMS OF SERVICE
Please note, when you place the program in your shopping cart and check out, you will be asked to agree to the Terms of Service, including the following:
I certify that this activity represents a valid and verifiable Continuing Education Experience that exceeds routine employment responsibilities.