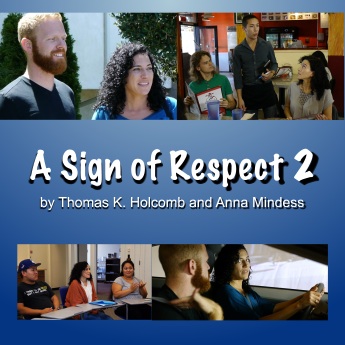 Copyright © 2017 Eye2Eye Productions
Welcome to the PREVIEW version of "A Sign of Respect" – 2nd Edition!
This preview contains two interactive scenes, each one with readings and exercises from Part 2 of the new second edition. Select the links below to view the material.
Use the green Program Navigation button

 to the right to go a different scene, reading or exercise at any time.
The new edition is structured just like this, including the entire first edition program (Part 1) PLUS the new second edition material (Part 2), divided into scenes with exercises, readings, assignments and the ability to set up group discussions among your students.
Part 1 is intended for beginning students (ASL 1 or 2). Part 2 is intended for advanced ASL or interpreting students.
Click "Contact" at the top of this page to request a free trial!

Program Content