Preview A Sign of Respect 2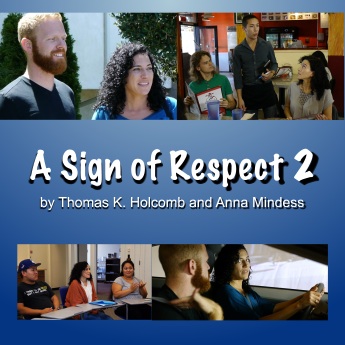 Copyright © 2017 Eye2Eye Productions
Welcome to the PREVIEW version of "A Sign of Respect" Part 2!
This preview contains two interactive scenes, each one with readings and exercises from Part 2 of A Sign of Respect. Select the links below to view the material.
Use the green Program Navigation button

 to the right to go a different scene, reading or exercise at any time.
A Sign of Respect is structured just like this, including the entire first edition program (Part 1) PLUS the new second edition material (Part 2), and soon to include a new Part 3 – divided into scenes with exercises, readings, assignments and the ability to set up group discussions among your students.
Part 1 is intended for beginning students (ASL 1 or 2). Part 2 is intended for advanced ASL or beginning interpreting students.  Part 3 will be geared toward students soon to graduate from Interpreter Preparation Programs.  We'll be posting a Part 3 preview in Spring 2020!
Click "Contact" at the top of this page to request a free trial!